All you need to know about surfing in Ericeira
Ericeira is often seen as the surfing capital of Portugal and offers an impressive variety of surf spots, crammed into just a few kilometers of coast. In 2011 Ericeira was chosen a World Surfing Reserve, the only one in Europe. Although most of the breaks are rock bottomed, the break in front of Ericeira Surf House is a beach break that is perfect for beginners.
Beginners
If you have never surfed before the beaches south of Ericeira are the place to be. Foz do Lizandro and Sao Juliao are typical beach breaks and perfect for beginners. Praia do Sul also provides some beginner possibilities if the conditions are right. Both Foz do Lizandro and Praia do Sul are within walking distance from Ericeira Surf House.
Intermediates
Intermediates can also have fun on the beach breaks mentioned above but they can also choose for the famous, reliable and safe reef break Ribeira d'Ilhas, host of the ASP World qualifying series or for some other breaks north of Ericeira.
Experienced surfers
For experienced surfers, Ericeira and surroundings is like heaven on earth. They can choose from over 15 surf spots in just 8 kilometers of coastline, with the world famous long and hollow wave of Coxos as highlight. Sitting proudly next to it in the quality stakes are the barrels of Pedra Branca, Backdoor, Reef, Cave and Crazy Left.

But don't forget to explore further up and down the coast as well. If you drive 20 kilometers north, you'll find the beautiful beach breaks of Santa Cruz and Praia Azul. The famous beach breaks of Peniche are also just an hour drive. To the south, you have Praia do Magoito, Praia Grande and Praia do Guincho. You can even venture further south towards Carcavelos beach and the other surf spots along the Lisbon coast. This is also the place to go when the western swells are too big or blown out.
The best time to surf in Ericeira
What is the best time to surf Ericeira for my surf level
Although Ericeira is a year-round destination for surfers, the surf conditions depend a lot on the time of the year. The winter season brings bigger swells and colder temperatures, where the summer season is very sunny with smaller waves. Spring and autumn are right in between those two, with favourable wind conditions in autumn, but less crowds in spring. But what is the best time for you to visit Ericeira? This depends a lot on your level of surfing and on your expectations. Below you can find more information regarding the best time for surfing Ericeira based on your level. But of course, this is just a general outline. You can also have great days for advanced surfers in the summer and perfect mellow intermediate waves in the winter. You just need to have a bit more luck then.
Beginners
Complete beginners can find good conditions year-round. Since Ericeira has such a great diversity of waves, there is always a surf spot that offers good beginner waves. In summer the best conditions are normally at the beach breaks, where in winter the harbour is often the best place to go. Spring and autumn can have good conditions anywhere, also on the mellow reef breaks. But if you are coming to Ericeira not just to learn surfing, but also to experience nice and warm weather, then the period from May to September is the best.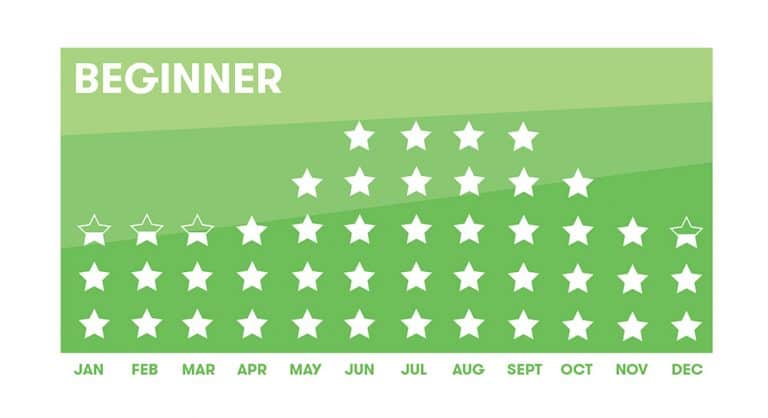 Advanced beginners
Complete beginners can find good conditions year-round. Since Ericeira has such a great diversity of waves, there is always a surf spot that offers good beginner waves. In summer the best conditions are normally at the beach breaks, where in winter the harbour is often the best place to go. Spring and autumn can have good conditions anywhere, also on the mellow reef breaks. But if you are coming to Ericeira not just to learn surfing, but also to experience nice and warm weather, then the period from May to September is the best.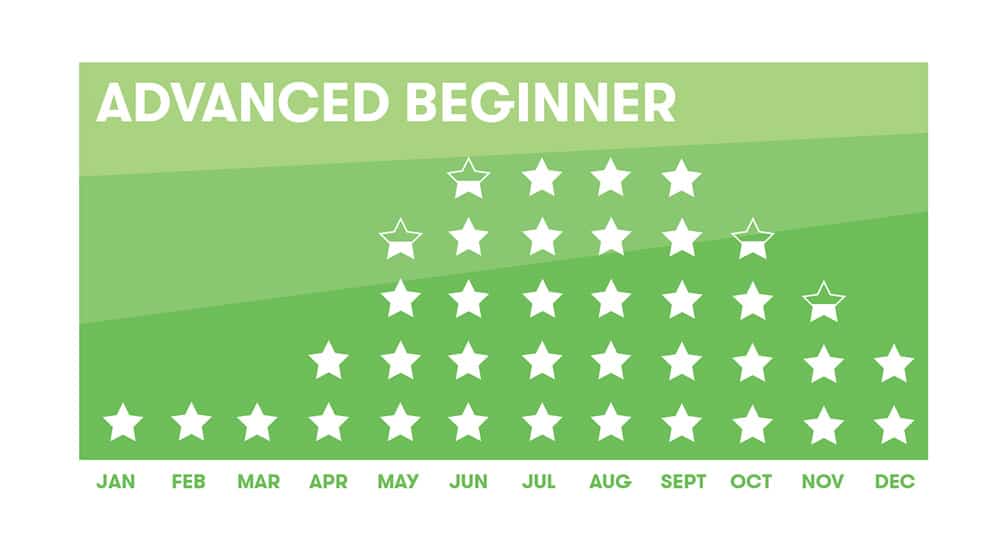 Intermediates
Beginning intermediates will find the best conditions around the summer months, so from June to September. For advanced intermediates the best conditions are normally not in the summer, but more towards the spring and autumn. Advanced beginners can also get really good waves in winter, but only on the smaller days. But if you have a rental car and you don't mind driving a bit up or down the coast, all intermediates can find great conditions any time of the year.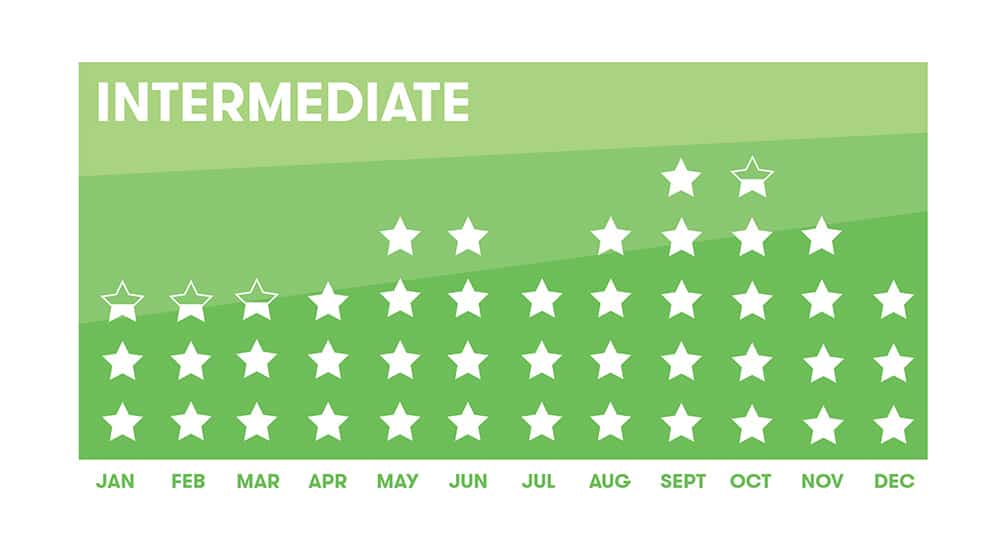 Advanced
For advanced surfers the period between September and April is the best time to travel. Most offshore winds and the biggest swells are from November to February. In September and October you can expect the least wind and cleanest conditions.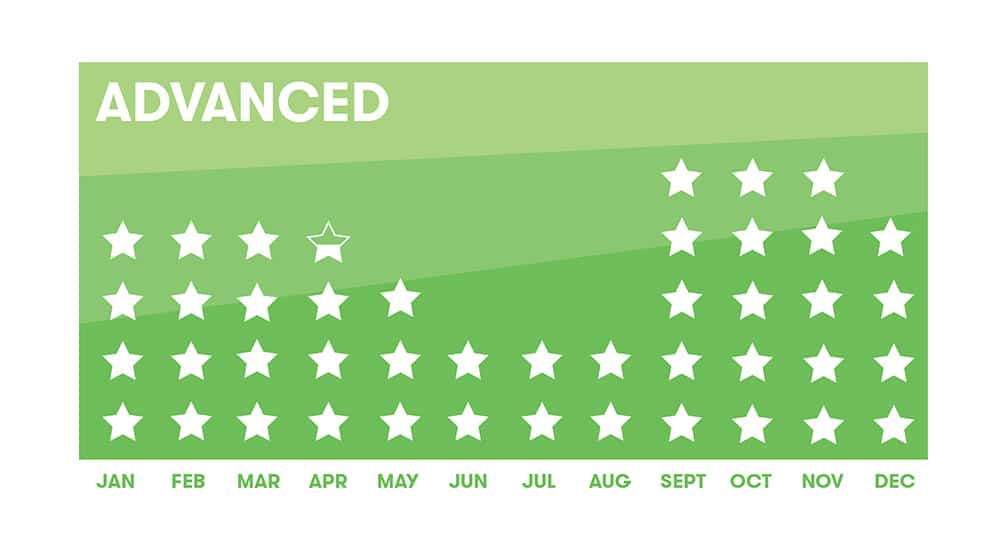 The most consistent surf spot of the South Atlantic
As you can see in the picture on the right side, Ericeira is a very consistent year-round surf destination. With a swell consistency of minimal 56%, it's actually one of the most consistent surf spots on the South Atlantic coast. Hossegor in France for example has a minimal consistency of 41%, Zarautz in Spain 42% and Sagres/Carrapateira in the Algarve 47%. This makes Ericeira your best bet, especially in the summer.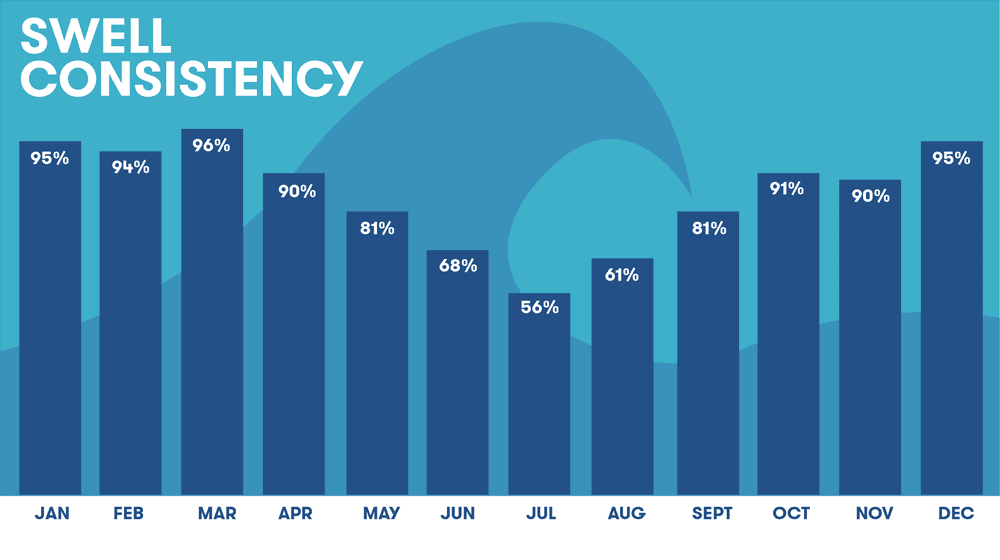 What wetsuit do I need to wear?
In this part of the Atlantic you basically always have to wear a wetsuit. The water is here cooler than for example in France or Spain during the summer months. A 3/2 (mm) wetsuit is advised from June to October. During the other months, you should go for a 4/3 with or without booties/cap (in winter). The water temperature can also change rapidly depending on the cold ocean current that hits Ericeira from time to time. You can experience different ocean temperatures even if you only stay for a short period of time. Summers can therefore also have lower water temperatures then in the picture. The temperatures in the picture are just a general recommendation. If you are planning to take just one wetsuit, a 4/3 is definitely your best bet year-round.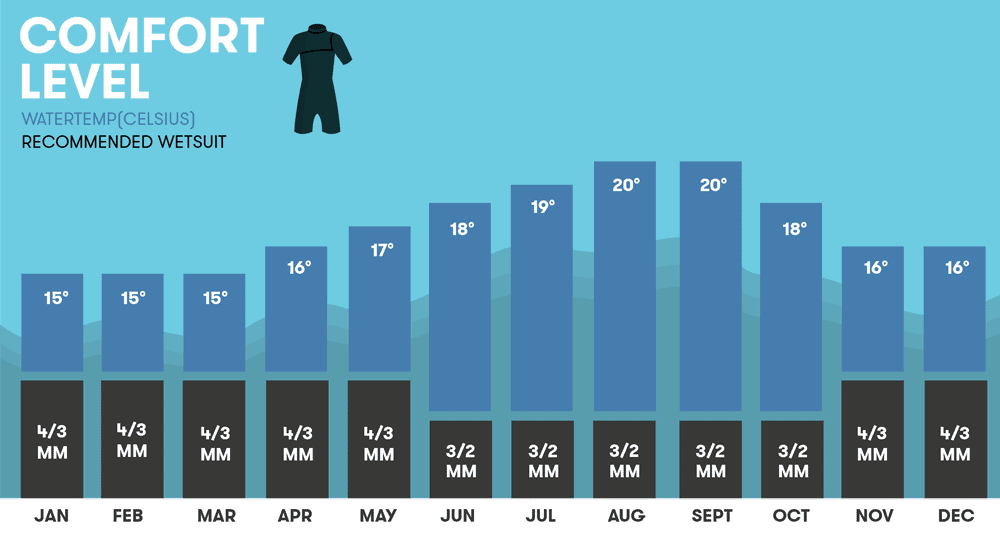 The best way to improve your surfing
The best and safest way to improve your surfing is by taking surf lessons. Local surf schools know exactly when and where to be, so you will get most out of your surf trip. The strict laws in Portugal make the quality of teaching in Portugal one of the best, with small groups, good equipment, qualified teachers and well-organized lessons. In Ericeira the quantity of surf schools per beach is regulated, so that the crowds are spread accordingly.
Our surf school checks the conditions day by day and decides where to go based on what we see and what the forecast shows. This way you will always surf the best possible conditions for your level of surfing. We offer surf lessons for all levels from beginner to pro. You can find more about the levels of surfing in the green section below this text. All our instructors are qualified and the head coaches are also life guards, born and raised in Ericeira. We offer transport between the surf house and the beaches for the lessons, so you don't need to worry about anything. Our surf equipment can also be used outside the lessons hours.
Level 1 surf lessons are for people who have never surfed before or have very little experience. On the beach and in the forgiving white water you learn the basics of surfing. We teach you how to catch waves and stand up on your own, with the correct technique in order to progress onto catching unbroken waves.
Level 2 can be either in the white water or on the unbroken waves depending on the conditions. You'll learn how to select and catch waves unassisted, how to steer your surfboard and how to stall and accelerate. You also learn to paddle through the white water efficiently and understand the surf etiquette.
Level 3 surfers can comfortably stand on the board and will focus on improving the surf technique on unbroken waves up to 4 feet. Once you have an understanding of how to paddle out past the broken waves, you will learn how to position yourself in the line-up and how to select the best waves. You will improve your basic understanding of turning and trimming along the wave face.
Once you are fully capable of surfing alone, but would like to build upon your current skill set, you are ready for level 4. This level is about performing committed maneuvers in the critical part of the wave. To name a few: cutbacks, floaters and tight pocket turns.
Windsurfing & Kitesurfing
Is Ericeira a good place for wind- or kitesurfing?
Although Ericeira is a great spot for surfing, you don't see many wind- or kitesurfers. The prevailling northern winds offer good possibilities, but only for experienced wind- or kitesurfers. The waves are often too big for surfers with less experience, especially in the winter months. Foz do Lizandro however is a great beach for kitesurfers during the summer months and on the days with less swell. Experienced windsurfers like the conditions at Matadouro, also for wave-sailing. And with a car you can easily go to the famous Guincho beach (45 minutes drive) or to spots such as Cascais (45 min), Costa da Caparica (Praia da Rainha), Fonte da Telha (60 min) or Peniche (60 min).
More information about surfing in Ericeira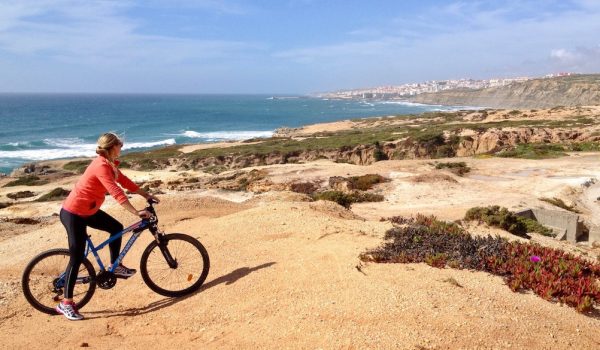 LEARN TO SURF IN ERICEIRA, PORTUGAL
If you are looking for your first surf holiday, it's quite hard to figure out where to go. There are so many surf schools and surf camps around the world where you can learn to surf, that the first thing you need to do is to decide on a location. If you are looking for a surf trip within Europe, then France, Spain or Portugal are the places to go. The Atlantic Ocean is a very reliable source for waves and there are not many other places in the world that can match its consistency.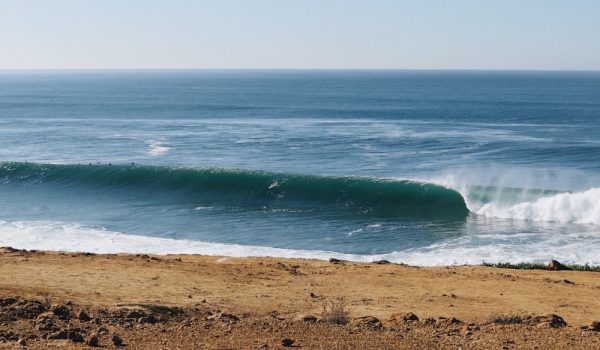 7 TIPS FOR PLANNING THE PERFECT SURF TRIP TO ERICEIRA
Is Ericeira on your bucket-list for your next surf trip or are you planning a holiday to Ericeira right now? Then it might be handy to know some in's and out's that can help you make the right choices. Small details can make a big difference if it comes to the perfect surf trip. Below you can find some tips on how to make the most out of your trip to Ericeira.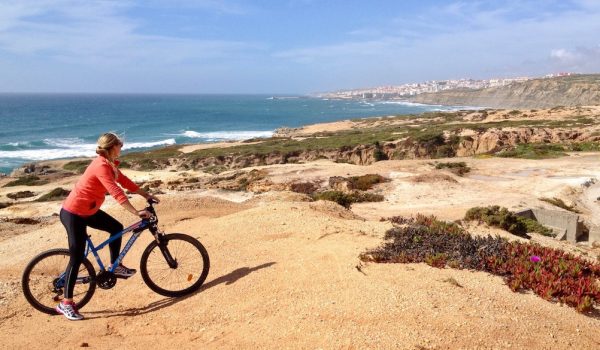 THE 5 SURF RULES EXPLAINED
For surfers and for people starting to surf, it's very important to know the basic surf rules, also called surf etiquette. Although surfing in general is quite a mellow sport, it can be very dangerous if the rules are not followed, especially since the lineups have become more and more crowded. The following surf rules  have been developed for the safety and respect of everyone. Make sure you know and apply them!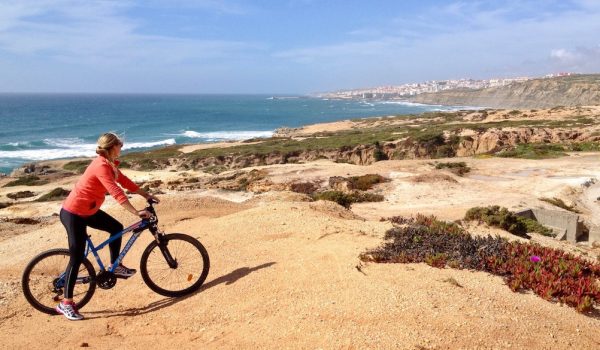 WHAT IS A WORLD SURFING RESERVE?
Have you ever looked at something and thought; 'I hope they never change this'? Maybe you even thought that while standing on top of Ribeira d'Ilhas looking out over the ocean, seeing the waves break over the sand, rocks and reefs beneath them. Well, if that's the case: good news, because Ericeira is a World Surfing Reserve. But what is a so called World Surfing Reserve (WSR)?